Bookkeepers Become More Valuable Over Time
Many people who explore starting a bookkeeping business believe that they'll do data entry for many more years to come. Although some may be happy with that it's important to understand the value that small business owners place on having a competent bookkeeper on their team. Data entry and other tasks included in Beginner Certificate Accounting Courses are an ongoing important task and if your employer is growing or of a decent size you'll become valuable for several reasons.
You have the bookkeeping knowledge
You know how to use the software
You understand the business processes, procedures and policies
Customer and/or suppliers know you
You know how to use other software important to the business
Progression as a Bookkeeping Contractor
You may find that your bookkeeping work will start small, but as your client gets to know you and grow in size you'll have an opportunity to grow with them.
If you are starting out from scratch as a bookkeeper, even if you have completed a Cert IV in Bookkeeping and Accounting, you might find it harder to find clients or employers willing you pay you the same rates as bookkeepers with lots of experience.
We've had bookkeepers with accounting degrees join our system and begin their business as a contract bookkeeper by performing beginner level tasks at level 1 rates and then gradually changing their business over time to do:
more advanced tasks
take on fewer clients
do more for their clients
Learn about our Membership Packages
The easiest bookkeeping roles to get are for the most basic data entry (sometimes called coding) tasks that small businesses need. Because these tasks are relatively easy the pay rates for these bookkeepers are lower and the market (of other potential candidates) is also large. It can be a great place to start, but if you plan to increase your pay and value in a small business you'll want to start performing more complex
bookeeping tasks
.
We've heard stories about contractors starting off in small casual roles and end up becoming a pivotal component in that same small business. It's important to understand the value of a good team and how important that is in the success of a small business.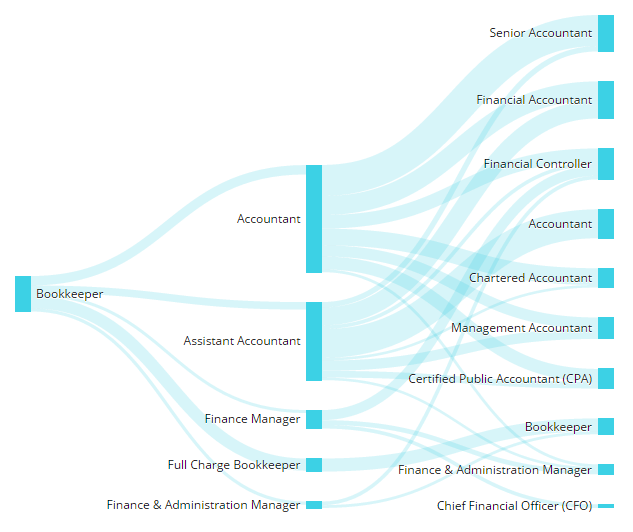 Career & Role Progression
This image from Payscale shows the various paths which start from a simple bookkeepers role – notice how, with consistent education and training, you can end up with one of the most important roles in the company?
Members of our team have started off as bookkeepers and ended up specialising in trusts, superannuation or a number of different, more specialised fields.
Contractor Bookkeepers & Their Business Plans
With our Training and Bookkeeping Business Plan stage you'll not only have a blue print for the success of your own business, but some valuable skills that may make you even more important to the small businesses that you end up working for.
If you are starting from a low base like performing data entry, you'll want to develop your skills to become a Registered BAS Agent because that will increase your skills and enable you to perform the tasks at the higher end of a bookkeepers pay scale.
Learn about Bookkeeping Tasks & Rates
From Level 1 data entry tasks to BAS lodgements, Payroll and End of Year financial analysis bookkeeping is an important task where there is career or business progression. The rate of pay can vary greatly based on the type of work performed, the compliance requirements, the bookkeepers level of education and experience.
Read about Bookkeepers Rates Register to Join