What Should You Expect from a Bookkeeper?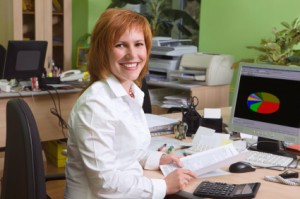 EVERY BUSINESS HAS TO DO BOOKKEEPING. It doesn't matter how large or small your business is and it doesn't matter where you are based — whether in an office or factory, or working from home as a remote contractor.
Keeping up to date with your bookkeeping is part of your compliance requirements for the Australian Taxation Office. The information you receive from your bookkeeping data entry also helps you understand how your business is performing and what you might need to change.
Compliance and Performance
The bookkeeping process begins the moment you start out in business and incur expenses. Most of the time spent in bookkeeping involves data entry and what accountants call "coding" — ie. putting each expense, income, asset and liability in the correct "account". Learn more about accounting terminology.
A simple example of this would be the placing of the costs for "petrol" into the "Motor Vehicle Expenses" category in your accounting software (MYOB, Xero & QuickBooks Online are the popular accounting software choice ). Learn more about Accounting Software.
With accurate bookkeeping you'll have accurate data that you can use to report to the ATO for monthly or quarterly BAS's and End-of-year financials. This information is critical for compliance with the ATO but also provides you with financial performance information that you can use to make better business decisions.
What Attributes Should My Bookkeeper Have?
When you are looking for a bookkeeper, whether to work for you locally, or remotely, you will most likely want to find someone with the following attributes:
Bookkeeping and Accounting Qualifications

Competence using Accounting Software like MYOB and Xero

Computer Software Skills in programs like Microsoft Excel

Good soft skills, customer and people skills
Although some business people prefer to have an expert do their bookkeeping, you might find that it is not necessary and it can be very expensive.
Junior and Senior Bookkeepers
It's important to have an expert help you with your Initial Set Up, including Chart of Accounts (the categories you use to allocate financial transactions), and Opening Balances AND your BAS and end of year lodgements but you can use experienced and competent junior bookkeepers for daily and monthly transaction and payroll.
It's important to work with an expert when you lodge your end of period (BAS, EOFY) financials. For these important events you need either a BAS agent or a TAX agent, but for the day-to-day data entry and reconciliations, your requirements may well be met using a person with lesser qualifications and/or experience.
Why Stay-At-Home Parents are Perfect
Mums and Dads who stay at home have long been a key resource to businesses looking for day-to-day bookkeepers because:
Much of bookkeeping is repetitive work and data entry

Data entry is often the same type of information entered over and over again

Some bookkeeping can be done outside of work hours

Bookkeeping can be performed on a once a week/month basis

Bookkeeping work can be performed remotely
Learn about common data entry and accounting tasks
Bookkeeping is a non-negotiable for all business people. It is a legal requirement that it be done. However, there is also the important 'human' side to bookkeeping; people want to hire someone whose personality will fit their business and their office; particularly if your bookkeeper will physically come to your office and help you with other administration tasks.
What is National Bookkeeping About?
We've assembled this service to help you find the most ideal bookkeeper for your business. You can see the skills and experience of each member as well as how they prefer to work.
When you make a request for a bookkeeper your requirements are sent to our membership so you may receive more than just one response. At any time you can also request a specific person to make contact with you.