Client Engagement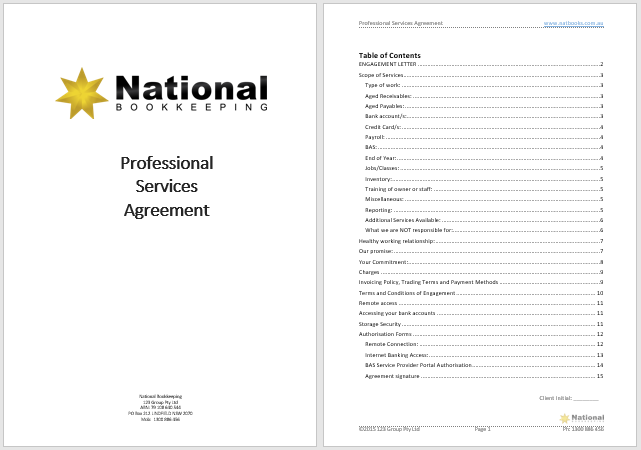 Sometimes also called a Client Engagement Letter, this is an understanding between a business owner or manager and their bookkeeper and it is usually created after a consultation to find out what the business needs a bookkeeper for. A professional services agreement (PSA) is very common amongst professional contractors even in the corporate world because it is a formal acknowledgement of the agreed services a contractor will perform and their reward for performing the work.
Why a client engagement letter is important
For cloud bookkeeping services the client engagement letter formalises an agreement where two people may not physically meet. It's very important for both parties security and confidentiality, but also because it lays out plainly and simply the working relationship between the two parties.
A professional services agreement demonstrates that the bookkeeper has the understanding and resources to give their work a 100% commitment but it also shows the business owner or manager that they need to keep and provide source documents (like receipts) for the bookkeeper to be able to perform their job efficiently.
How a professional services agreement covers your business
If you are hiring a registered BAS agent or public accountant these professionals are responsible for lodging your financial information with the Australian federal tax department (Australian Taxation Office) so they need to be trained and experienced to deliver their services and ensure your finances are in very good order.
Things like knowing your GST obligations and setting them aside for when they are due is important for your business cash flow and a professional services agreement provides you with information about the registration details of your BAS Agent and that they are actually registered and insured.
Request a Bookkeeping Quote