MYOB Bank Reconciliation Training Course
Course Topics
Bank Reconciliation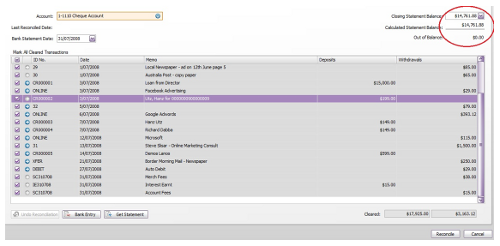 A bank reconciliation is performed once all of the day-to-day transactions have been entered into your software. The purpose of this bank reconciliation is to ensure that your software data matches the information in the real world (ie. your bank account). It is at this stage that you will enter:
the direct debits that come out of your account automatically,
interest charges or payments,
merchant and bank charges.
You'll also find duplicates or omissions and need to correct the data that you have previously entered.
MYOB Bank Reconciliation — Loan Account
Creating a loan account, transfer loan funds, transaction details and accounts payable, setup accounts payable linked account, editing or deleting a transaction entry
MYOB Bank Reconciliation — Entering Transactions
Creating customer cards, creating inventory items, entering a sale and payment, spend money, receive money from a client, reconcile your cheque account to your bank statement
Who would do this MYOB course?
The MYOB Bank Reconciliation course is best completed after the MYOB Day-to-Day Transactions Course because it progresses nicely from one to the next. The training workbook that is included with this course is fully self contained so any student can perform the tasks in this workbook without having completed the MYOB Day-to-Day transactions course first.
BUT
Although not crucial the experience of working with banking transactions that are both cash based (using the banking module) and accruals based (using the sales and purchases modules) as well as receiving these payments and having the ability to go back and edit them if mistakes are made is important and very beneficial for doing this course.
You'll learn:
How to enter loan account entries and repayments,
how to enter end of month payments like direct debits
How to create journal entries
How long does this MYOB course take to complete?
When we operated training centres in Sydney this course would generally take a day. This MYOB course involves creating the cashbook, invoicing and payment entries and then performing a bank reconciliation with a sample bank statement.
Online you can take as long as you need and progress at your own pace.
MYOB Courses Information  Prices and Orders  MYOB Course 4 GST, Reporting & BAS